​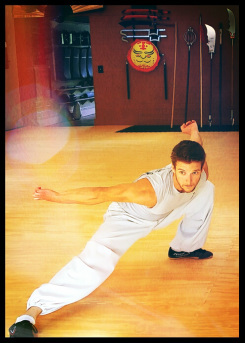 Matthew Banks has more than eighteen years training in the martial arts, and is a certified instructor in the Southern Shaolin Tiger Crane system, Shaolin Northern Long Fist, and Yang style Tai Chi.  Sifu Banks also trains in Chen Family Tai Chi and Shaolin Qi Gong, as well as nutritional guidance and health and wellness via Traditional Chinese Medicine (TCM).  In addition, Sifu Banks holds the rank of Sandan (3rd degree black belt) in Mukei Goshin Jutsu, accredited under Nin Sho Ryu karate, and has received training in numerous weapons systems, as well as Xing Yi Quan, Muy Thai, Tang Soo Do, Shotokan karate, Kenpo karate, Bagua Zhang, Wing Chun and 18 Buddha Palm, and American boxing.  Sifu Banks is a 34th generation disciple of Shaolin Temple.  His Buddhist title is Yan Kun.

Sifu Banks is a strong advocate for community outreach, and has taught regular self-defense / rape prevention seminars at university campuses throughout the state. At 9 Dragons Kung Fu, he was co-instructor of the 9 Dragons Youth Demonstration Team, which provides dedicated youth an opportunity not only to further their martial arts, but learn to become stewards of their community through regular fundraising activities for the local community. 
Master Michael Kaneen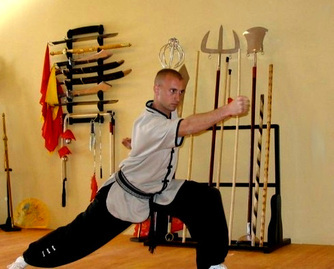 6th Degree Black Belt
Sifu Kaneen began his training in the martial arts at 14 years of age, and has been training now for more than 25 years. He has been blessed to learn under amazing teachers that range from Shaolin Monks to Martial Art Hall of Fame Members to Olympic Athletes. Sifu Kaneen has trained in Chinese, Japanese, Korean, Filipino and Western boxing systems and is currently ranked as a 6th Degree Black Belt and Master Instructor. 

Master Tamara Kaneen
5th Degree Black Belt
Wife, Mother of two girls, 5th Degree Black Belt Master Instructor, United States Martial Arts Hall of Fame Inductee, Yoga Teacher, Certified Raw Food Teacher, Coach and Chef, Super Food Nutritionalist.

Believing that Health and Wellness is the balance between our bodies, the foods we eat, our emotional state and our daily habits, Tamara Kaneen has focused her teachings on the internal arts of Qigong, Tai Chi, Yoga, Nutrition, and lifestyle habits that enhance longevity.

Bringing the latest information, merged with the ancient wisdom of the past to each of her classes, seminars, and videos are key ingredients in helping her students achieve health and wellness. In her effort to continually learn and ensure the effectiveness of her teachings, Tamara studies and attends seminars & workshops with some of the world's leading experts.

Teaching classes, seminars, and providing private coaching, Her passion for health, wellness & the internal arts of yoga & tai chi are inspiring and contagious.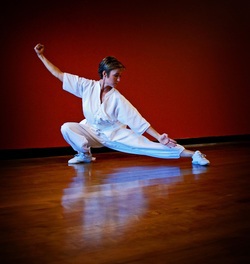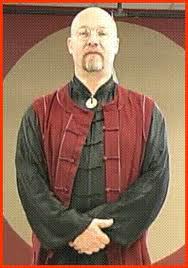 Jerry Cook started the martial arts in 1971, in Junior High he studied boxing, wrestling & shotokan under master Charles Dixon. In 1974, he taught Parkers kenpo karate through high school eventually receiving a black belt from the AKKA. In 1980, he studied akido with John Takagi. During 1984, he received a black belt in okanawan go-ju-ryu with sensei Alverez. Then in 1985, he learned tiger & crane from Buck Sam Kong and later masters such as Hung & Ru Hu Zhu. He also learned the 116 wing chun mokjong from master Fong. 

In 1987, he learned 108 ba-kwa from Dr. Wong and later masters such as Hsu & Ting-jue. He received a black belt in green dragon kung fu / shuai chaio / chang 108 taichi from master Chicoine, and 108 long fist 1-10 fighting methods from master Ma, and later Pan Qing Fu's 18 combat style. In 1990, he received a black belt in Budo kan ju-jitsu from Dr. Anglen. During 1992 he started work with Jin Heng Li in wu shu receiving a black sash. 

In 2002, he received a 7th° black belt in kajukenbo certified by c- jo Emperado, and Grandmaster Pierce. He also started his studies with shaolin monk Shi Yong Kkai in styles of yi-chin-ching, baji & chen taichi; he also worked with Chen Xaio Wang, Chen Bing, and Chen Zhang. In 2005, he received one of the most knowledgeable master's awards from the Martial Arts Hall of Fame & was put on the International Grandmasters Council. 

In 2007, he became a Doh-yi master with daoist priest Jaing Jing Sun Baek specializing in Wu-Tang sword and Dao-in. In 2008, he received grandmaster scrolls from ninjitsu Grandmaster Ashida Kim & Grandmaster Lawrence Day black dragon. During 2011, he received IMACC professorship, grandmaster in Grandmaster John Wong's tanglang lotus clan & received a 9th° black belt in the Pierce combat method, kajukenbo & the black dragon fighting society. 

He helped build the Yang Tze Medical Center in Phoenix, Arizona under Master and Dr. Xiao Pu Quan. Jerry Cook has won over 50 national black belt championships & has produced over a dozen books & videos in the arts. Master cook specializes in teaching & certifying martial arts instructors in more than 200 schools. He has learned from some of the greatest teachers of the time & enjoys sharing that knowledge with others.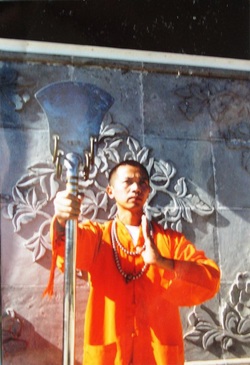 Sifu Xiao Pu-Quan Member of National Research Institute for Shaolin Martial Arts, China Member of Qigong Research Institute, Yulin, Guangxi China Member of Shaolin & Qigong Research Institute, Wenshan, Yunan Province, China Staff Member at Nanhai Shaolin Martial Arts Center, Guangdong, China Training Coach for Sichuan Chang Kai Martial Arts Team, Sichuan, China Graduate of Chang Chun University of Chinese Medicine, China.

Major concentration: Traditional Chinese Acupuncture and Internal Healing Arts. - Clinical Specialty: Bone injury and surgery, Martial arts medicine/ sports medicine. Martial Arts Specialty:Shaolin Wushu/ Kung Fu, Shaolin Hard Qigong,Traditional Tai Chi Quan, Shaolin Fighting Arts and Advance Shaolin Warrior Fighting Techniques etc. Master Xiao has been honored as an emissary to promote Shaolin Martial Arts and Chinese Healing Arts to the World. He has been invited to lecture tours all over China including Tibet,Yunan Guanxi, and more than 20 other provinces and regions in China. Master Xiao has come to the United States from China. He is here to promote his unique system of healthy mind and body development through the seminar and workshop programs at Sacred Mountain Fighting and Healing Arts.

Master Xiao was born into a martial arts family, and began his kung fu training at an early age. He had learned various wushu kung fu fighting techniques under a number of well-know martial arts instructors. At a young age, Master Xiao entered the Songsan Shaolin Temple in Henan Province China to study Shaolin Kung Fu under the Reverend Shi Xing Chang, who was also a disciple of the famous Abbott De Chan. Master Xiao is the 33rd generation disciple of the Shaolin Temple. His Buddhist title is Shi Yong Kai.